Where
Bancroft Bible Camp
141 Bancroft Private Dr.
Kingsport, TN 37660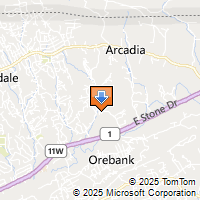 Driving Directions
Contact
Al Baker
Presbyterian Evangelistic Fellowship
info@pefministry.org
Cost
$200.00 per person
Includes food, lodging and literature. $50 is required at time of registration. Final payment is due by August 8th.
Click here to make a payment online.
Schedule
Wednesday, August 15
3 p.m. to 6 p.m. Registration
6 p.m. to 6:45 p.m. Supper
6:45 p.m. to 8:00 p.m. Lecture One.
8:00 p.m. to 9:00 p.m. Revival Prayer
Thursday, August 16
7 a.m. to 8 a.m. Revival Prayer
8 a.m. to 8:45 a.m. Breakfast
8:45 a.m. to 10 a.m. Lecture Two.
10:15 a.m. to 11:15 a.m. Lecture Three.
11:30 a.m. to 12:30 p.m. Lecture Four.
12:30 p.m. to 1 p.m. Lunch
1 p.m. to 6:30 p.m. Evangelism at the Bristol Motor Speedway
7 p.m. to 8 p.m. Debriefing and Revival Prayer
Friday, August 17
7 a.m. to 8 a.m. Revival Prayer
8 a.m. to 8:45 a.m. Breakfast
8:45 a.m. to 10 a.m. Lecture Five.
10:15 a.m. to 11:15 a.m. Lecture Six.
11:30 a.m. to 12:30 p.m. Lecture Seven.
12:30 p.m. to 1 p.m. Lunch
1 p.m. to 6:30 p.m. Evangelism at the Bristol Motor Speedway
7 p.m. to 8 p.m. Debriefing and Revival Prayer
Saturday, August 18
7 a.m. to 8 a.m. Revival Prayer
8 a.m. to 8:45 a.m. Breakfast
8:45 a.m. to 10 a.m. Lecture Eight.
10:15 a.m. to 11:15 a.m. Lecture Nine.
11:30 a.m. to 12:30 p.m. Lecture Ten.
12:30 p.m. to 1 p.m. Lunch
1 p.m. to 6:30 p.m. Evangelism at the Bristol Motor Speedway
7 p.m. to 8 p.m. Debriefing and Revival Prayer
Raising up the next generation of Evangelists.
Every generation of the church of Jesus is in need of evangelists Our generation is no different. Where shall we find them? We must send young men into the pressure cooker of obedience and see what God produces. Samuel Davies, the eighteenth Presbyterian evangelist of Hanover, Virginia, died at the age of thirty-seven, but God used him powerfully in evangelistic preaching throughout the Richmond, Virginia region, planting at least thirteen churches in the process.
We are looking for young men who have a desire to be bold with the gospel of grace, who will come to Bristol, Tennessee during the Nascar races of August 17-18. If you are a pastor, missionary, street preacher, lay evangelist, or a man with a growing passion to proclaim Christ, then this is for you. If you are an older man, then you are still welcome to attend as long as you bring at least one young man with you. Just as we do not learn to swim in the desert, we likewise cannot become effective evangelists in the classroom alone. We must go into the field. What better way to learn than by listening to qualified men speak to the issue, and then send out their students to practice. The Bristol Motor Speedway will have 160,000 people present. After lengthy times each morning of prayer and instruction from God's word, we will then go to the racetrack and practice preaching in the open air, engage in one on one personal evangelism, and gospel tract distribution. You will be challenged and inspired as you see God work powerfully through you.
The conference will start on Wednesday, August 15 and go through Saturday evening, August 18. Participants are free to leave Saturday afternoon or they can stay until Sunday morning, if they wish. Those who stay are welcome to worship that Sunday with the nearby Eastern Heights Presbyterian Church if they wish.
Click here to learn more about PEF's Samuel Davies School of Evangelism.
Topics
Al Baker: How to Preach the Three Fold Gospel
Josh Buice: Divine Sovereignty & Human Responsibility in Evangelistic Preaching    Tony Curto: Particular Redemption Practically Applied in Evangelistic Preaching 
  Speakers
Josh Buice
Dr. Josh Buice serves as the pastor of Pray's Mill Baptist Church in Douglasville, Georgia — just west of Atlanta. He is the founding director oftheG3Conference, the author of a theology blog (DeliveredByGrace.com) and is passionate about expository preaching, biblical theology, and the local church. Josh studied at The Southern Baptist Theological Seminary where he earned his M.Div. and D.Min. in expository preaching. With a passion for sound biblical theology and ecclesiology, Pastor Buice spends much of his time preaching, writing, and talking about these important issues. He is married to his wife Kari and together they have four children (Karis, John Mark, Kalli, and Judson). When away from the office, Josh enjoys spending his time with his family, hunting, running, and a good cup of coffee.
Tony Curto
Tony is Professor of Missions and Apologetics at Greenville Presbyterian Theological Seminary in South Carolina. He is also a Missionary Evangelist to Ethiopiaand also on OPC Committee on Ecumenicity and Inter-Church Relations. Tony has been in the ministry since 1980 and has a couple of writings published. You can learn more by clicking here.
Al Baker
Al Baker is ordained in the Presbyterian Church in America and has been in the gospel ministry for over thirty-five years. A 1974 graduate of the University of Alabama, he received his Master of Divinity degree from Reformed Theological Seminary, Jackson, Mississippi in 1981. He received Doctorate of Divinity in Evangelism and World Missions in August 2017 from Whitefield Theological Seminary, Lakeland, Florida. Al's ministry base of operation is Birmingham, Alabama, serving as an Evangelist with Presbyterian Evangelistic Fellowship. Al is the author of four books—Evangelistic Preaching in the 21st Century, Seeking a Revival Culture, Revival Prayer, and Essays on Revival. Prior to his present ministry, Al was the organizing pastor of Christ Community Presbyterian Church, West Hartford, Connecticut, serving there for nine years; and before that he was the pastor for ten years of Golden Isles Presbyterian Church, St. Simons Island, Georgia. Al has long been actively involved in foreign missions to Central and South America, Africa, India, Great Britain, Europe, Japan, and Indonesia, also traveling extensively around the United States preaching in churches and in the streets. Al and Wini have been married for over forty-two years and have three grown sons, three daughter-in-laws, and twelve grandchildren.
[1] Below is an article written by Rev. Al Baker about Samuel Davies and the importance of raising up a generation of evangelists modeled after him.
Who was Samuel Davies? Born in November, 1723 in New Castle County, Delaware to godly Welsh parents, Samuel gained his education under the tutelage of the Revered Samuel Blair at Faggs Manor, Pennsylvania. He was only eighteen years old when the full power of the Great Awakening through the preaching of Jonathan Edwards, George Whitefield, and William and Gilbert Tennent was sweeping through Pennsylvania, Delarware, New York, and New England. Davies suffered his entire life with the ravages of tuberculosis and consequently believed he would live only a short life. He therefore rejected the call to pastoral ministry, but he was willing to serve as an evangelist. Davies was ordained by the New Side Presbyterians in 1747 and was called to Hanover, Virginia, the Richmond area. The state religion at the time was Anglican and Davies convinced the Governor of Virginia to allow him as a Presbyterian to preach there. Davies had seven different preaching stations in six counties, traveling weekly by horseback to each one. He was a powerful, eloquent, Spirit anointed, Calvinistic preacher. Patrick Henry, the great orator and major architect of the American Revolution, often heard Davies preach and said that he was the most eloquent man he had ever heard. Through Davies' evangelistic efforts, as many as thirteen Presbyterian churches were planted in the Hanover region. After Jonathan Edwards' death, Davies was called to replace Edwards as the President of the College of New Jersey (Princeton) in 1759. He continued there for two years until he finally succumbed to tuberculosis in 1761 at the age of thirty-seven. Davies was deeply committed to the Westminster Confession of Faith but he also was New Side, meaning he supported the Great Awakening as an authentic movement of the Holy Spirit.